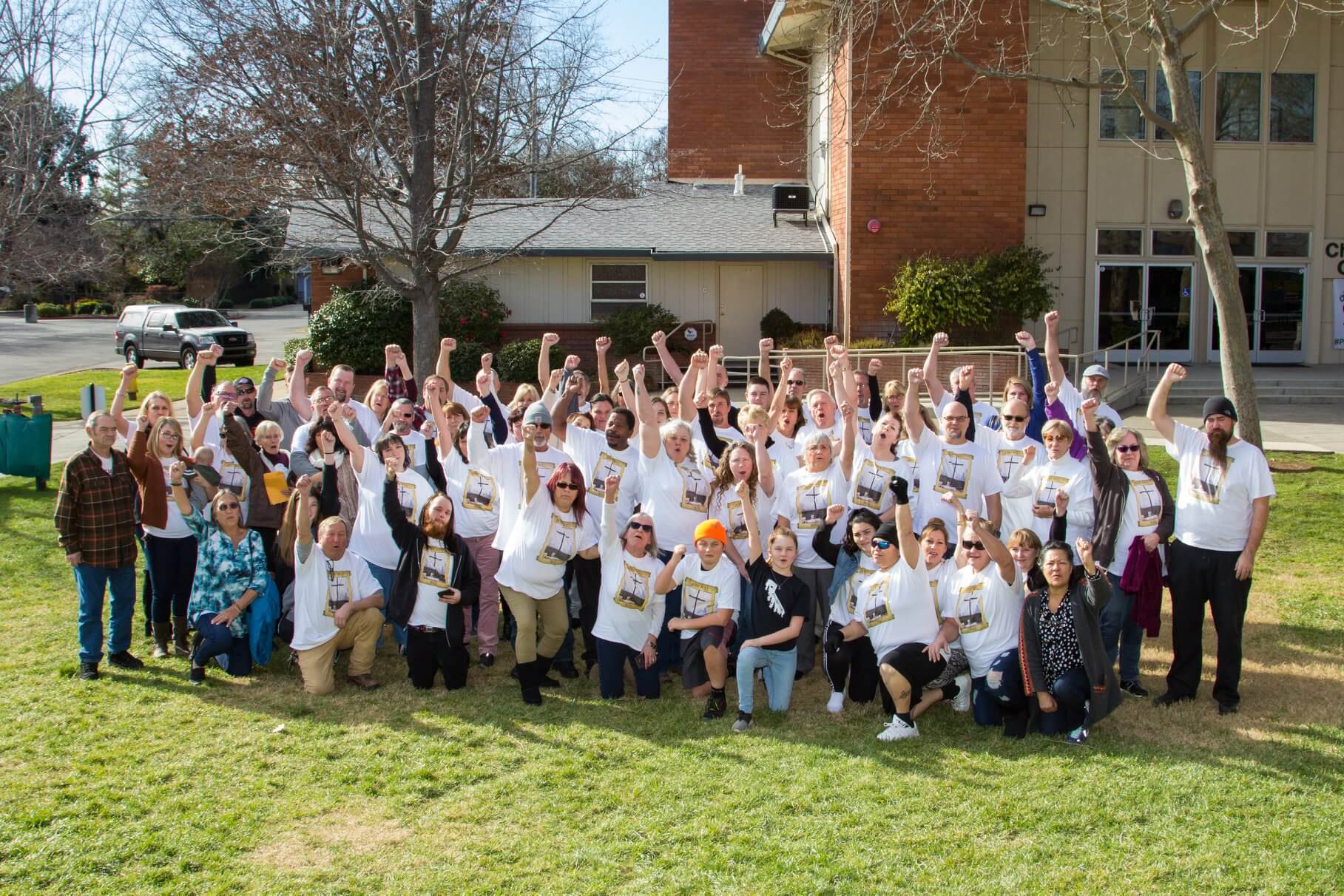 On November 8, 2018 the small town of Paradise was hit by the deadliest and most destructive fire in California history. Among the 27,000 residents stood a church that clung to hope in the midst of the blaze.
Just weeks before, Stan Freitas, Senior Pastor of that little church called Hope Christian, had helped design the tall wooden cross that would mark the completion of their new Worship Center. Engraved in the hand-carved cross were the words, u201cLove God, Love People.u201d
That motto was never challenged more than the moment the church burnt to the ground, leaving only two items remaining: The wooden cross and the rock on which it stands. The photo of the ash-dusted cross went viral, serving as a symbol that the church is alive.
u201cHope is in the hearts of our people,u201d says Pastor Stan. u201cI remember seeing that cross and the rocks, and thinking of the lyrics: u2018On Christ, the solid Rock, I stand; All other ground is sinking sand.u2019 To me, this is our time as the body of Christ to rise up.u201d
In spite of losing both his church and home, Pastor Stan encouraged his members to worship God in the good times and in the bad, knowing that Christu2019s perspective is much bigger than our own. With resilience and enthusiasm, he viewed the disaster as an opportunity to share Jesus with a multitude of people in the midst of pain.
Humbled by generosity, he thanked God for immediate provisions from outside partnering churches who raised money, lent a church building in neighboring Chico, and sent in support teams. Among them was the PEACE Relief Team from Saddleback Church.
u201cWhen Saddleback showed up to help us, there was still smoke in the air,u201d recalls Pastor Stan. u201cIt blew my mind. I was so touched, humbled, and grateful to see my hero church encouraging my mountain church!u201d
Since the early 1980u2019s, Pastor Stan has been listening to sermons by Saddlebacku2019s Pastor, Rick Warren, and his wife Kay. He credits them both for changing his ministry and life forever.
u00a0
Ironically, at the time of the fire, the Hope Christian congregation was studying Saddlebacku2019s campaign, 40 Days of Prayer. Closing out the series, they planned on hosting a campaign celebration and unveiling their new building on Friday evening. But, less than 24 hours before the planned event, the church went up in flames.
u201cMost of our members lost their homes and places of work,u201d explains Pastor Stan. u201cThe Scriptures from the last week of 40 Days of Prayer prepared us for this disaster. We have not missed a Sunday worshiping together since the fire.u201d
Due to lack of housing, and families having to relocate, attendance has taken a hit from 300 down to 130 people. Through the lull however, Hope Christian Church has placed its focus on becoming a model Purpose Driven Church. Since they launched in 2010, theyu2019ve ended every service with the words: u201cIn Christ we always have hope!u201d
Now, says Pastor Stan, is their time to prove it. He plans on bringing his leadership team to the 2019 Purpose Driven Church Conference in June, and is taking steps to keep church health at an all time high.
u201cWeu2019re not done yet,u201d he says. u201cIn fact, we are just getting started. Our heartu2019s desire is that God will raise us up out of the ashes and rebuild this church to glorify him.u201d
If youu2019re interested in attending the Purpose Driven Church Conference, learn more at pd.church.